The production of horse-drawn carriages in the Gostyń poviat is the pride of the region, but not only. Few people know that Poland is a world-renowned producer of horse-drawn carriages, both classic and sports. This is where the GLINKOWSKI production plant is located, the largest manufacturer of carriages in the world. We talk with Hubert Glinkowski, Sales Director, about the market, plans for the future and threats posed to the industry by the outflow of employees to other sectors of the industry. Although my interlocutor emphasizes that the problems in this respect may only affect the industry in a few years, he wants to prepare now and declares the employment of any number of welders, milling machine operators, turners and fitters with experience in the horse-drawn carriages industry.
THIS MATERIAL IS A PRINT OF AN INTERVIEW PUBLISHED IN ŻYCIE GOSTYNIA ED. October 26, 2021
Polish horse-drawn carriages are appreciated all over the world. That's good, right?
This is a reason for pride, the national one and the closer one, the pride of Gostyń. In few industries, Polish enterprises dictate the conditions on the market, and in ours this is exactly what happens. Polish craftsmanship in this area is doing very well, unfortunately there is a growing shortage of craftsmen who choose to work in other sectors of industry. The human factor is the only problem faced by the industry, which, otherwise, is doing very well in most cases.
If the producers are doing well, why do we observe the outflow? I understand that not for financial reasons?
The largest producers in the industry, including us, pay at a level of renowned companies from the industrial sector, including those with foreign capital. Of course, there are extreme examples of remuneration on the market where employees are, colloquially speaking, "absorbed in", but these are incidental and usually limited in time cases. Generally, the largest "carriage drivers" pay high rates, which, incidentally, are more and more difficult to translate into the carriage price. We have an employee market and wages are really high.

So, what is the problem?
We do not know, we are wondering and I must admit that we are worried. In our plant, we offer good conditions, a one-shift, 8-hour working day and a five-day working week. If someone wants, they can stay longer and then we always pay remuneration for additional working hours. However, we do not force anyone, it is a voluntary decision of each employee. We cover employees and their families with the group health insurance program. We have a modern workshop with welding robots, Y-axis lathes and the latest generation milling machines which facilitate work and make it safer. We finance the acquisition of employees' forklift licenses, welding licenses, which is not the standard even among the largest industrial companies. We adapt to employees who own agricultural holdings and organize production so that they can harvest or collect other crops. We have a portfolio of orders for many months ahead, a stable financial situation and a reputable brand. We wonder if the problem lies in the image of the industry, perceiving it as a niche and disappearing. This approach should definitely be denied.
However, you launched the production of construction buckets and agricultural trailers. Isn't it the case that you limit the production of carriages because you are concerned about the future?
Construction buckets and agricultural trailers are complementary production. In the case of carriages, there is seasonality, sales decrease in the off-season. Moreover, the production of carriages is time-consuming and requires a lot of finishing work. It is this stage of production when the production machines intended for mass production are, as it were, released. We thought that it would be better for them to work, hence the diversification of production. We are happy that both production lines are developing very well and we also have large order books here. Additionally, they stabilize the functioning of the entire GLINKOWSKI GROUP. However, our heart beats for horse-drawn carriages. This is our pride. That is why we are concerned about the decreasing number of available craftsmen, hence the questions about the future of the industry, posed not only by us. They have multiplied especially recently, in the context of the production plans of local enterprises, which are heard about, and which may deepen the outflow of employees. Although I do not expect real problems in a few years.
What must be the characteristics of employees who would like to work with horse-drawn carriages?
It is a job that requires a craftsman's vocation, a certain passion for detail. It is not a job for people who value repetitive work on the production line. There is no place for boredom in the production of carriages, each carriage is different, because its user is different. Apart from the natural factors such as height and weight of the driver, there are also elements of individual expectations in terms of finishing. Each carriage is a different story. Like recently in the production of a carriage for a wealthy Client from the USA. Classic wooden carriage, entirely gilded, with details in the shape of the ancestral logo and painted landscapes. The project which lasted many months and required a combination of the talents of our craftsmen and befriended artists. Or other projects. Reconstruction based on photos of the 3rd US President's carriage, a technologically advanced eco-garbage truck powered by photovoltaic panels, or a sports carriage for the world champion with individual driving solutions. We have demanding clients, current world champions and those who aspire to become them, renowned museums or individual collectors who require the highest quality. Without the excellent specialists we still have, such projects would not have been possible. This job requires passion and often creativity. Employees who like to feel the satisfaction of being part of extraordinary projects. People for whom such job gives a sense of fulfillment. And that it is so, it can be seen best in the statistics. Our best craftsmen work in the plant for a very long time: 54% of the staff have been working for over 10 years, 23% for over 20 years, 1% for over 30 years. There is practically no rotation in key positions. We will employ today any number of welders, milling machine operators, turners and fitters with such an approach and experience in the horse-drawn carriages industry.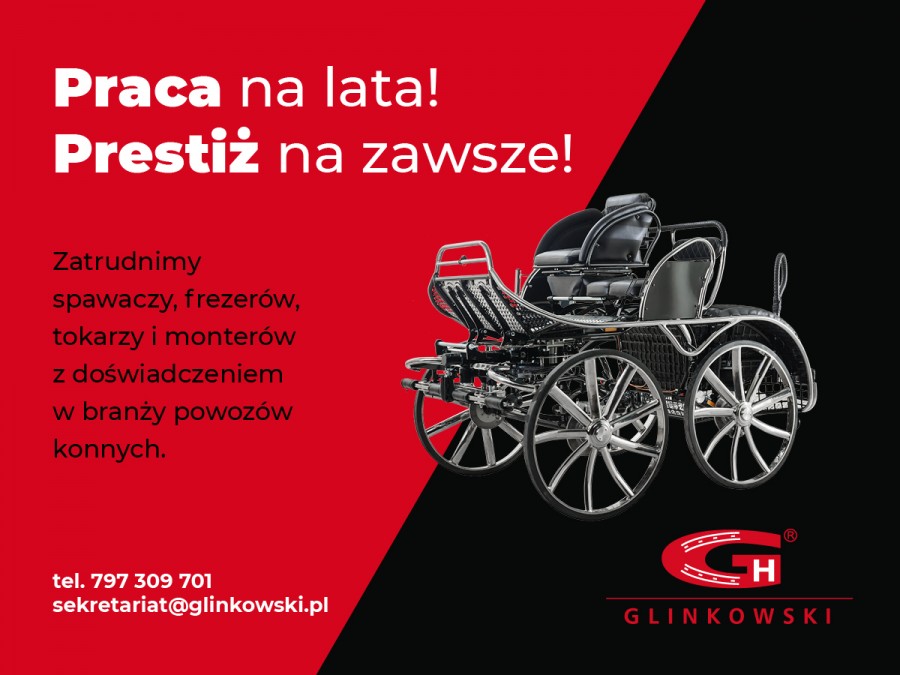 Does the problem with the inflow of new employees translate into the volume of this year's production?
This year's production will be smaller, although it will still approach the level of 1000 carriages. However, this is the result of a pandemic and a global lockdown, a canceled equestrian season and closed tourism. We struggle more with extending order fulfillment. We also have signals from dealers that the post-pandemic market demand is large and can be managed, but deadlines can be a barrier. Buyers choose German, British or Dutch manufacturers. To the detriment of Polish workers, the state and our local economy.
Given these sectoral issues, what are your plans for the future?
We do not need big investment plans. Every year we invest in modern machines to maintain the position of the technological leader in the industry. In spring, new numerically controlled machines came to us: a milling machine, a lathe and a press brake, now we are buying another two new welding robots. These are high-class equipment from renowned European manufacturers. We have a secure financial situation, orders for many months ahead, we only need new employees. We are determined to acquire them and continue to develop dynamically. We have been producing carriages since 1956, we will continue to produce them, and - after all - I hope production will increase. To the glory of Polish craftsmanship, especially in our Gostyń region.
Sponsored by the GLINKOWSKI brand, Bartłomiej Kwiatek has just won the double title of the Polish Champion in two-horse and one-horse carriage driving. Is this another great sporting success for your brand?
We are happy about these successes, especially since the last pandemic year was marked by the cancellation of subsequent competitions. Bartek became the Polish champion in the category of one-horse carriage driving for the 15th time. In the category of two-horse carriage driving it is his second title, the first one he won last year. It is worth noting that Bartek is also the world champion in this category. It would take a long time to count all the other medals of the world and Polish championships, silver and bronze, won individually and in the national team. Bartek chooses GLINKOWSKI carriages because thanks to them he achieved the most. Cooperation is going well for us because both, we and he, hate compromises. Only quality matters. This cooperation also confirms that we have no equals in the category of sports carriages in the world. Bartek currently has a dozen or so carriages of our brand, and has recently received the latest model, on which he won the last competition. He is our only factory rider, but not the only competitor who competes on our carriages. We are the first choice of many reputable drivers from all over the world. For many years.
Job for years, prestige forever: is this the motto of your campaign, with which you invite potential employees?
With this slogan, we want to disseminate the somewhat forgotten knowledge that carriages are still the strength of the region, are its greatest promotional value, and working in the horse-drawn carriages sector can be an inspiring, well remunerated professional adventure for a lifetime. Additionally, working with us gives you a sense of prestige and exceptional professional satisfaction.