We often produce the State Coach / Berlina horse carriage model, but this one was different. Why? See for yourself!
State Coach is the name of a classic horse-drawn carriage commonly used in in English speaking countries. In German speaking countries, this carriage is called Berlina. It is a luxury travel vehicle, a horse carriage with a covered and glazed body, construction includes reach under the body, equipped with two double seats facing each other. In the 19th century, the name defined a carriage suspended on the belts between two poles. It is a very exclusive model among the classic horse-drawn carriages produced by our plant, but this order was unique.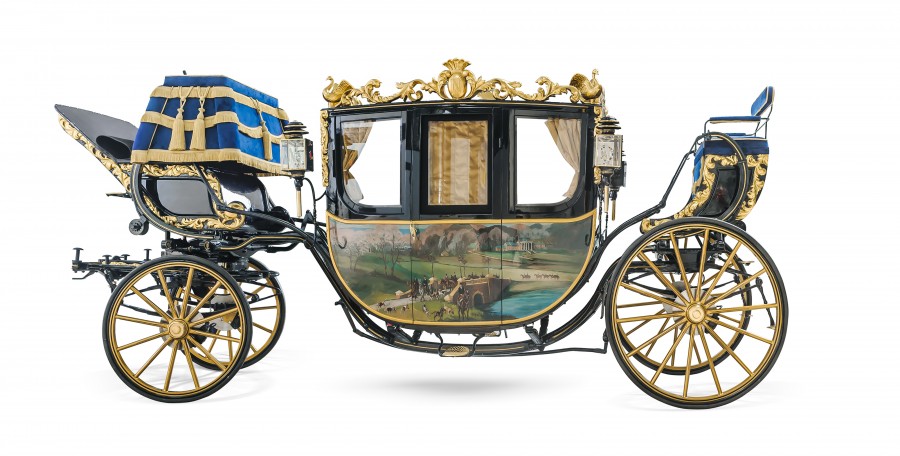 The order was placed by a client from the USA who already has several models of our carriages. The State Coach was supposed to be a representative horse drawn carriage for transporting guests around the client's spacious property.
The carriage was mostly gilded with 24-carat gold, both wooden and metal elements. It had family markings in many places, and a painting showing the client's property on the side door. All finishes (leather, fabrics, stitching) had to be of the highest quality, and the impression of luxury and splendour was to emphasize the social position of its owner.
The project required a number of arrangements and acceptance of individual stages of production, which during the Covid-19 pandemic hindered and extended the work. Many months of work also required the involvement of external specialists, fine artists, painters and goldsmiths.
The project implementation would not have been possible without the involvement of employees in every stage of the project, from the design and engineering stages, through the employees of the carpentry shop, forge, paint shop, fitters to the sales department. A real DREAM TEAM, or actually… GOLD TEAM! Thank you!
We are extremely proud of this project!